ASUS Republic of Gamers (ROG) and Designworks, A BMW Group Company, Reveal the Future of Gaming with the Creation of ROG Face Off
-- Futuristic and Planned Designs Create New Concept and Illustrate the Future of Gaming Inspire New ROG Line of Gaming Laptops --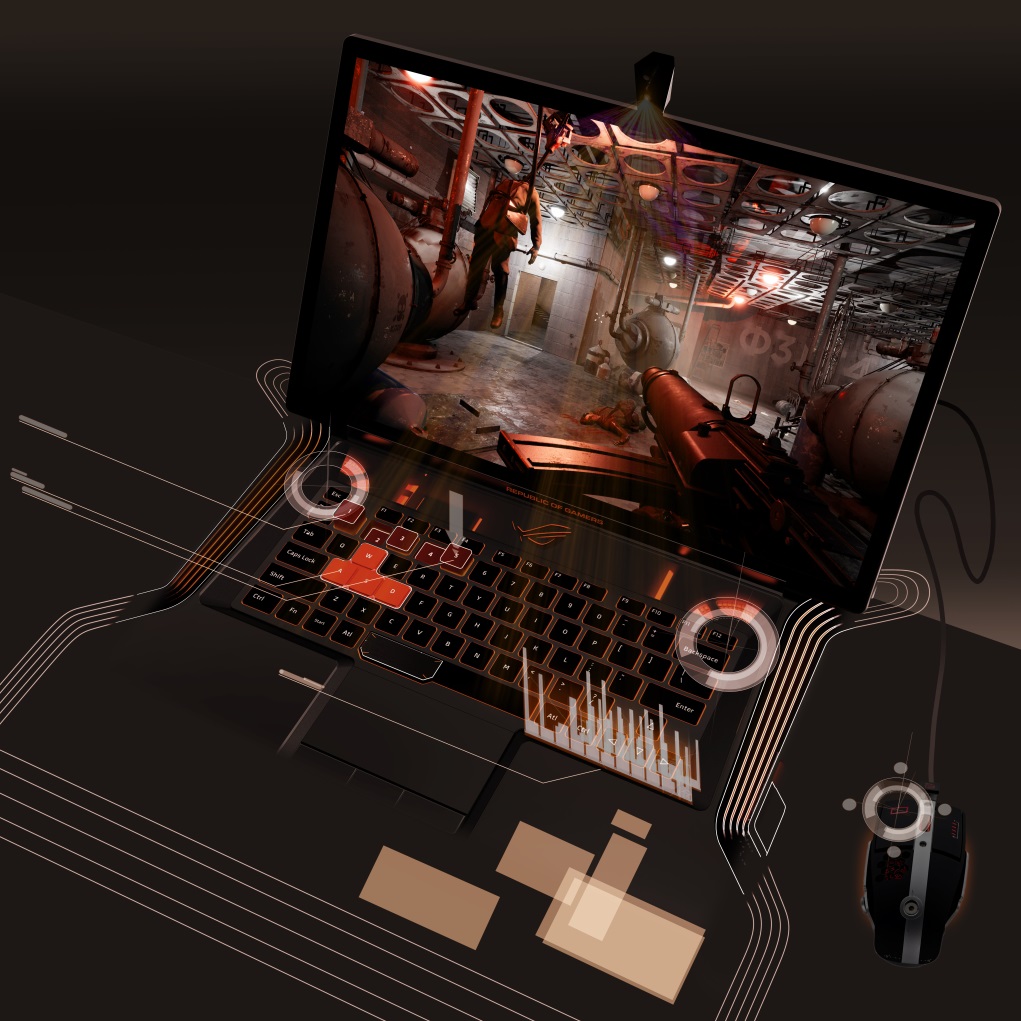 Fremont, California (April 23, 2019) — ASUS Republic of Gamers (ROG) introduces an exciting new concept design, ROG Face Off, created through a partnership with Designworks, A BMW Group Company. The purpose of the collaboration and concept was to imagine the future of gaming laptops. ROG Face Off strikes a balance between two worlds: elevated aesthetics with a premium appeal and a more dynamic and immersive gaming experience.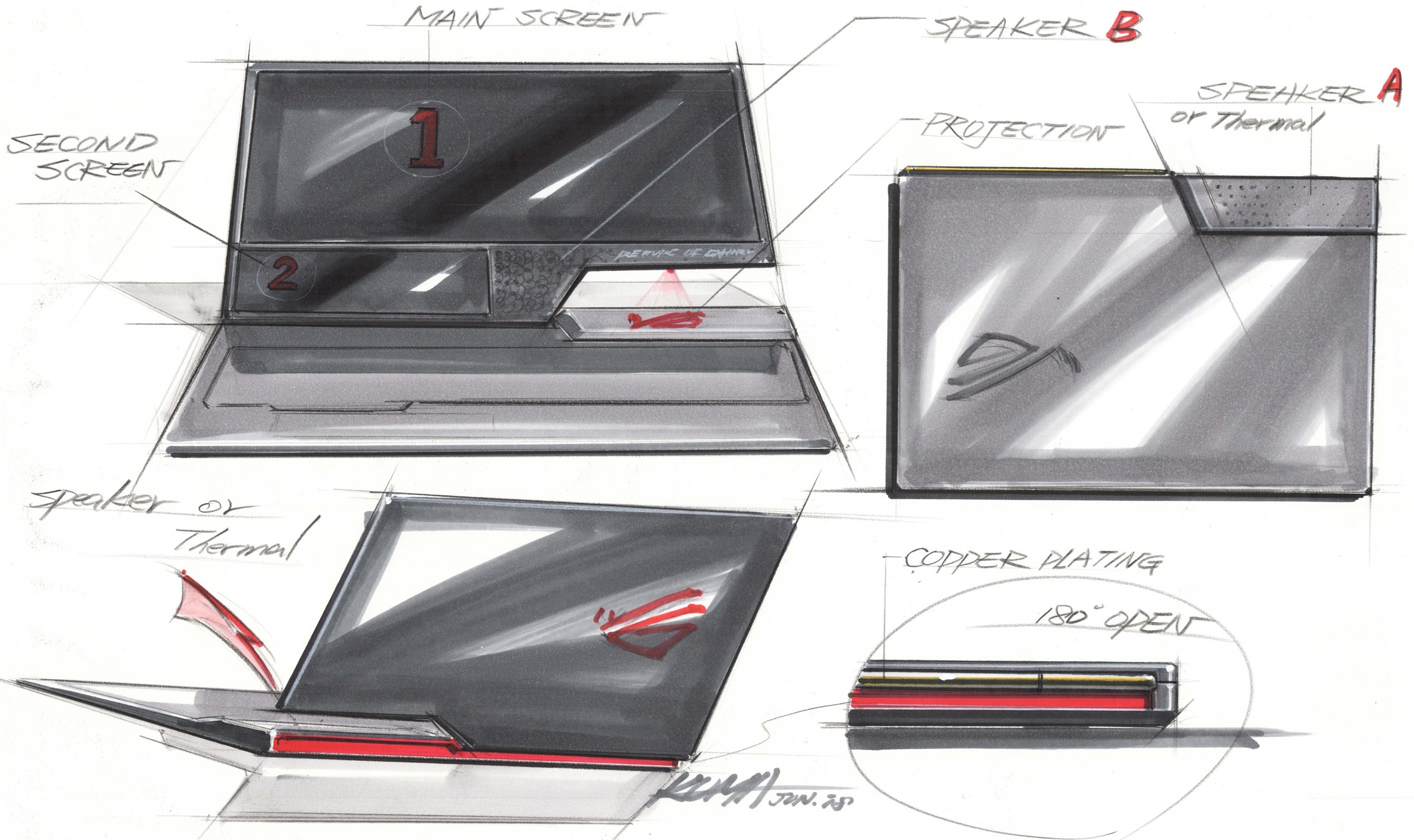 "Republic of Gamers has relentlessly pushed the industry forward in pursuit of the best gaming experience, and we're constantly looking ahead to what's next. This search for inspiration led to the renowned creative minds at Designworks and a partnership to imagine the future of gaming laptops," said Vivian Lien, Global Head of Marketing - Gaming, Systems Business Group." We collaborated to explore ideas for not only the next generation, but also the ones after that, culminating in a stunning concept that gives a glimpse of what's to come. We're excited to see how laser projection and other augmented reality technologies develop and are eager to experiment with integrating them into future designs."
"This project allowed us to take a deep dive into the gaming world and its professional community – the passion for performance is something we clicked with instantaneously. The technical expenditure that drives the development of competitive gaming machines is remarkable and a good indicator for the scale of e-sports and its ecosystem said Nils Uellendahl, Design Director at Designworks Shanghai Studio. "Through research we understood on the other hand that a multipurpose laptop is needed to match the dynamic lifestyle and gaming habits of millennials. A device that performs in a professional work or study environment that can transform with a push of a button into an immersive and powerful gaming machine. Curating different modes as a tool to create meaningful experiences is an approach that we also use on BMW Group projects.
ROG Face Off incorporates these factors into the design; the fact that gamers have different personalities and often work as hard as they play. Its flowing lines and transformative traits chart a fresh path forward with themes that are possible to implement today, while a more forward-looking vision for projected UI elements explores what may be feasible tomorrow.
Envisioning tomorrow through futuristic interactions

Although much of the ROG Face Off concept is technically feasible today, one aspect thinks further outside the box. Projection and tracking technology is advancing rapidly, and the collaboration and the concept imagines how it could be employed to augment reality with virtual elements that rise up from the laptop and respond to gesture-based commands.
Extending the interface into the user's environment has tantalizing potential for monitoring system performance, enhancing gameplay, and more deeply immersing the user in another world. The possibilities for personalization are practically limitless, branching from the cosmetic customization enabled by RGB lighting to something far more powerful and interactive.
A taste of the future today

The ROG Face Off concept is far from a finished product, but the collaboration with BMW Group Designworks inspired ROG designers working on other projects. The new ROG Strix G gaming laptops channel some of the same ideas, including raised ridges that race across the chassis and provide additional ventilation to improve airflow at the back. The offset cut-out under their displays leaves more room for airflow while also applying an asymmetrical accent reminiscent of another concept design explored during the project.
The ROG Strix SCAR III and Hero III incorporate the ROG Keystone, a physical device that docks with the laptop to reinforce a physical connection with the user, and can trigger changes to lighting and system settings that match their personal preferences. Its development was driven by the same motivations that produced the concept's spring-loaded switch and mode-specific lighting effects.
Plotting the path to the future

The project started almost a year ago with initial research at the ASUS Design Center located at ASUS headquarters in Taipei. After examining the work and background of different creative firms, the decision was made to move forward with Designworks, the design innovation studio for the BMW Group which has a 25-year history of helping companies to create cutting edge designs and experiences. During an initial workshop to align on objectives and provoke first ideas, the ROG teams learned about Designworks' design methodology and creative approach that proved to be successful in the automotive industry and beyond. Focused on providing holistic visions for complex projects and designing systems which impact and improve the world that we live in, Designworks works together with its clients to create and realize ambitious visions for the future.
Brainstorming birthed multiple design directions based on the central theme that gamers have different motivations. Some seek victory above all else, while others want to be immersed in another world. Then there are those who play as part of a larger social desire to connect with friends and teammates. Gamers aren't one dimensional, either; motivations can change based on the game, and many also use their machines for productivity, content creation, and 3D rendering.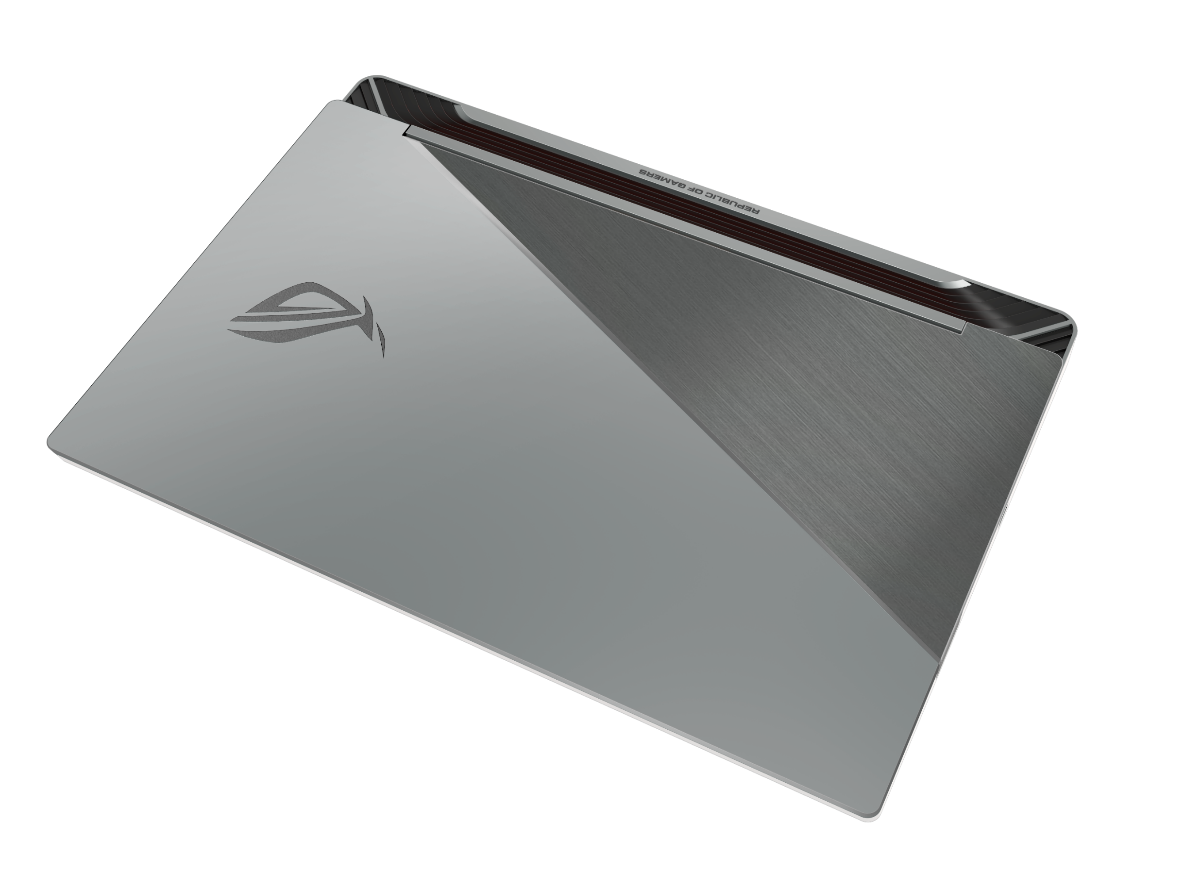 A fresh design complimenting ROG hallmarks

ROG Face Off reflects the split personality and needs of gamers now, and in the future when more advanced capabilities become available. The design layers elements to draw the eye across three levels, each with a different focus, going from the streamlined silhouette to surface sculpture and then finer details.
The sleek exterior has a focused and aggressive profile framed by futuristic lines, but still retains familiar ROG hallmarks, like the offset slash and ROG logo emblazoned on the lid. The distinctive cut contrasts polished and matte surfaces that reinforce the ROG existing aesthetic in a bold new way.
While ROG laptops typically stick to darker tones, the concept wears a silver coat tinted jade green. Designworks chose the concept's unique color to align with future design trends, culled from their knowledge of picking trending colors for the automotive industry.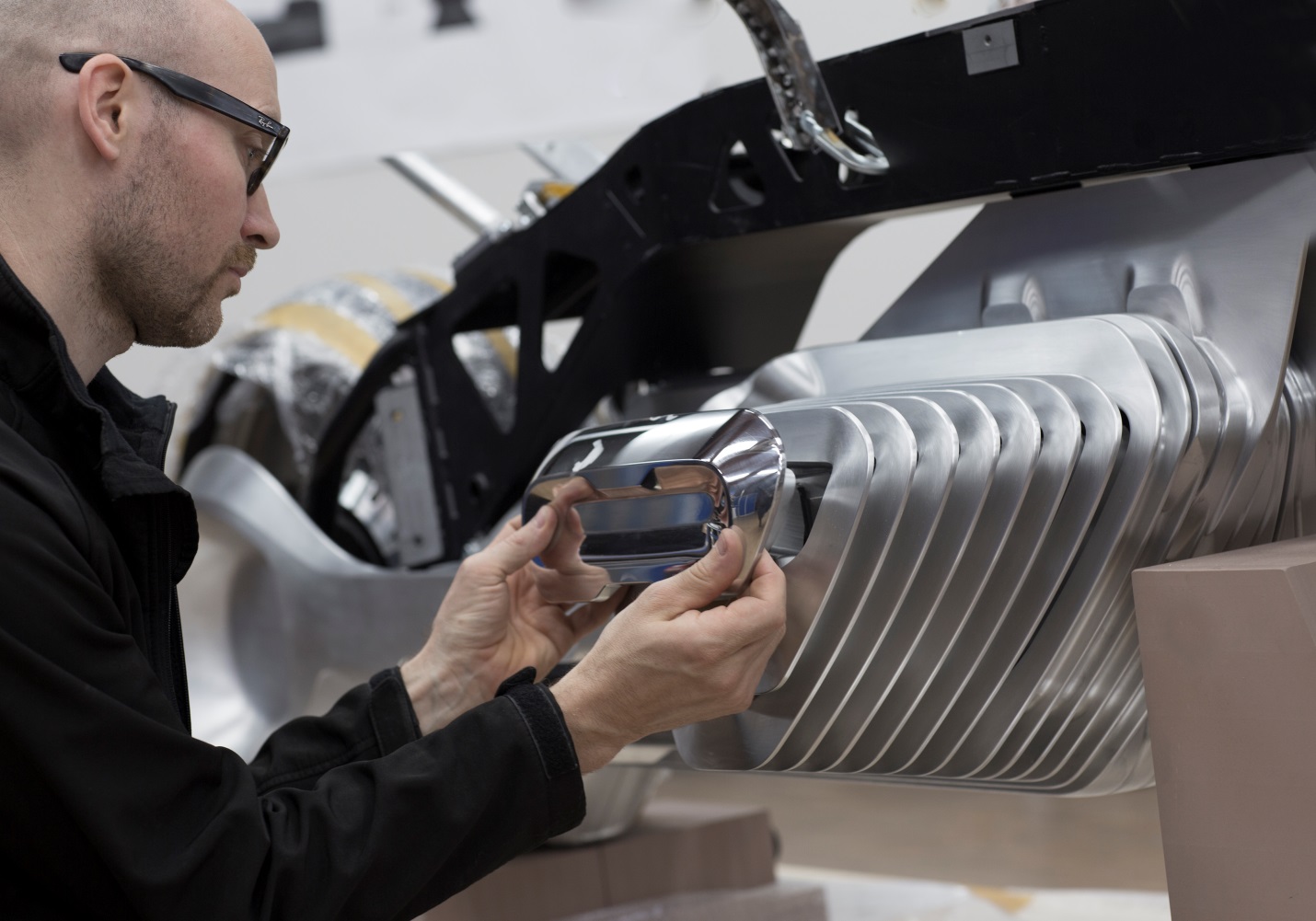 Inspired by, and designed for speed

The ROG designers loved the flowing form of the BMW Motorrad VISION NEXT 100 motorcycle concept and wanted to bring some of the same feel to laptops.
Leveraging the expertise of car design, Designworks used aesthetic principles from the automotive world and applied them to a laptop design. Less rigid forms, more elaborated lines and surface treatment give an impression of performance and quality.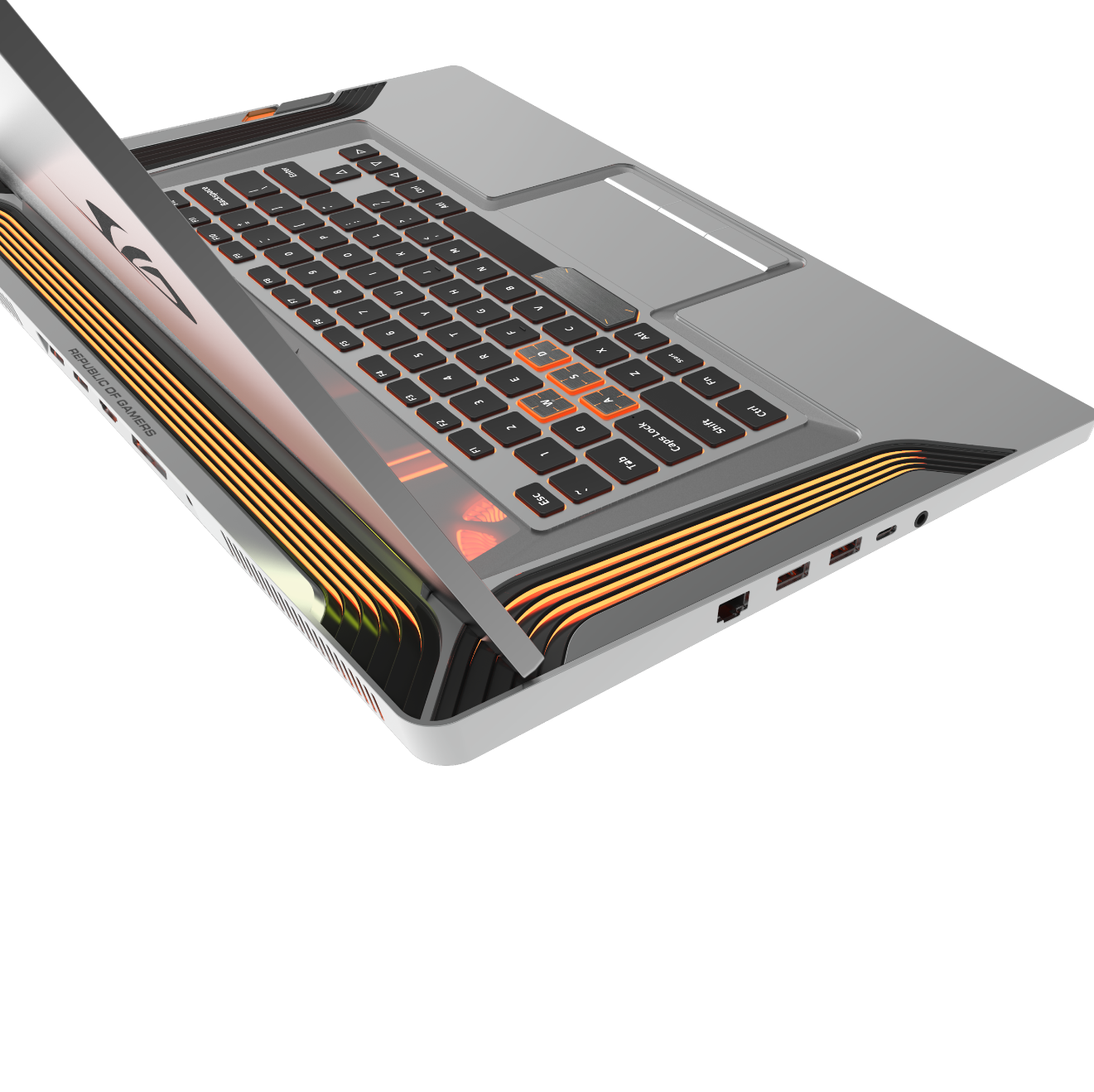 Thus, on the ROG Face Off concept, sets of progressive gills sweep across the back of the chassis and flank the sides of the keyboard. The gentle curves balance the laptop's harder edges and instantly draw attention while also providing functional ventilation. LEDs below generate a customizable glow that illuminates the raised ridges from within.
Additional interior lighting proudly highlights the motherboard, fans, and other components visible through the smoked X-ray panel above the keyboard. Over the years, several ROG laptops have incorporated windows that provide a view of the powerful hardware inside. The ROG Face Off concept goes further with a panoramic view of what's under the hood, and it illuminates the fans to make the internals look more dynamic when the system is in use.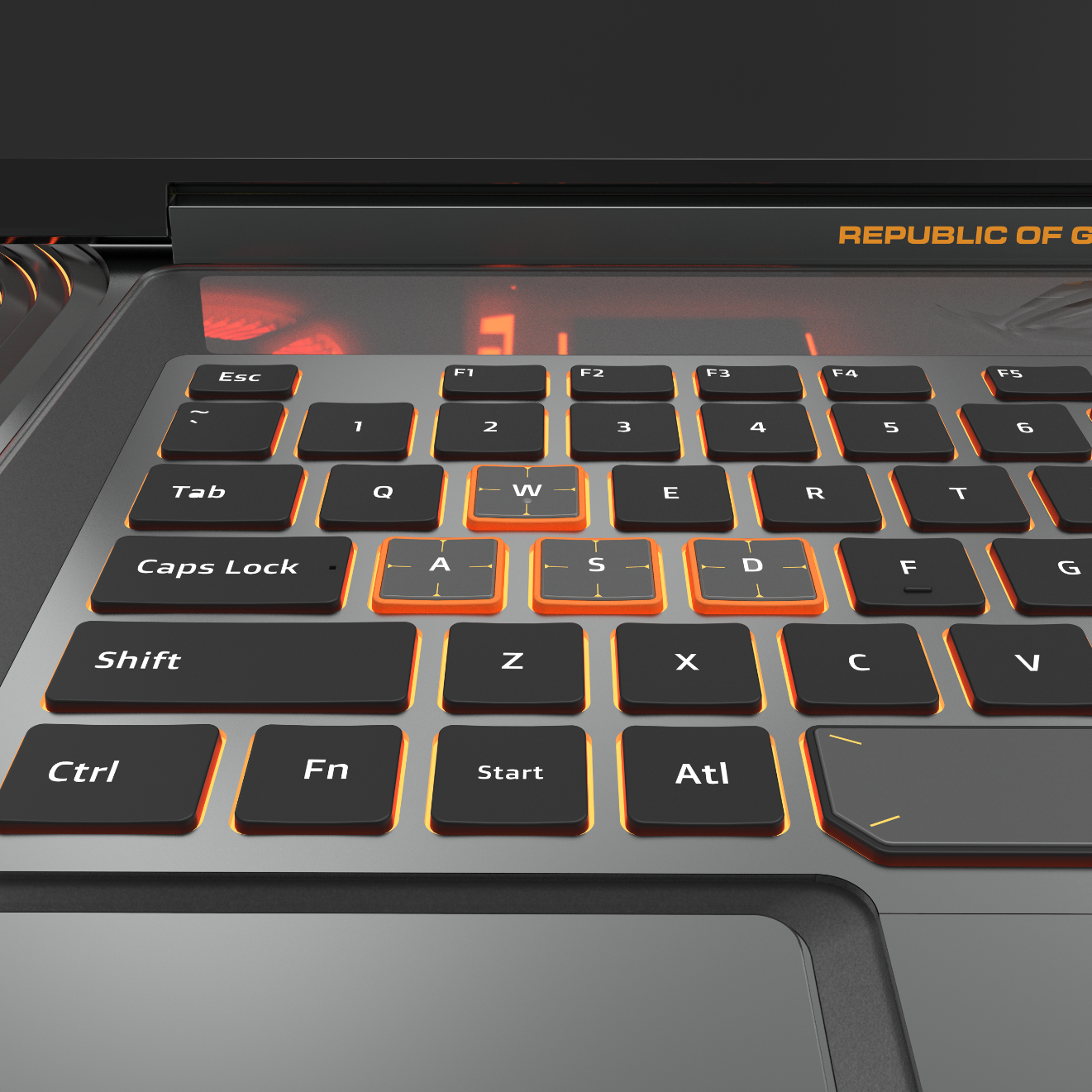 Tactile attraction and personalization

Tactile surfaces play an important role in differentiating the keys to victory. The WASD cluster and left side of the space bar are covered by smooth metal skin that makes critical gaming controls immediately recognizable by touch alone. To satisfy gamers seeking more grip, rubberized cover was designed that fits over the WASD group
A desire for more physical interaction also influenced the design of the power switch, which trades traditional buttons for a spring-loaded setup inspired by bolt-action mechanisms. This subtle mechanical movement can evoke a deeper physical connection with the machine than yet another a simple press. The switch initially protruded from the chassis and was even more bolt-like, but practical considerations prompted the shift to a more streamlined implementation.
Pulling the trigger powers on the system and activates an accompanying lighting effect that amplifies the awakening. RGB lighting also helps to define the concept's dual personalities. It glows pure white in work mode (work hard), initially illuminating the entire laptop but quickly fading to just the keyboard to help maintain a lower profile. But in gaming mode it glows defiantly red, reinforcing a more aggressive attitude that suits the mood (play hard). This duality of the aesthetics enables users to; elegantly blend into the daily work environment, and create an immersive gaming experience.
Making it more of a reality today

While the advanced and futuristic capabilities of ROG Face Off aren't readily available now, ROG engineers and designers are working to make them a reality in the near future. Some of the design elements and features are available now, most specifically with the ROG Strix G, as well as the Scar III and Hero III. Despite focusing on giving a glimpse of the future of gaming laptops, the ROG Face Off concept and collaboration that created it have already inspired distinctive designs that are ready now.
###
RELATED PRESS RELEASES:
ASUS Announces Refreshed ROG Gaming Laptop Lineup
ASUS Republic of Gamers (ROG) and Designworks, A BMW Group Company, Reveal the Future of Gaming with the Creation of ROG Face Off
ASUS Republic of Gamers Announces ROG Mothership (GZ700)
ASUS Republic of Gamers (ROG) Brings Gaming Fundamentals to Affordable Laptops with the ROG Strix G (GL531)
ASUS Republic of Gamers Showcases Latest Strix Laptops at RE:DEFINE 2019
ASUS Republic of Gamers Announces Zephyrus G (GA502)
ASUS Republic of Gamers Announces Zephyrus M (GU502)
ASUS Republic of Gamers Announces Zephyrus S (GX502)
ASUS Announces TUF Gaming FX505 and FX705 Laptops Utilizing the Latest AMD Processors and NVIDIA GeForce Graphics

PRESS CONTACTS
###
About ROG
Republic of Gamers (ROG) is an ASUS sub-brand dedicated to creating the world's best gaming hardware and software. Formed in 2006, ROG offers a complete line of innovative products known for performance and quality, including motherboards, graphics cards, laptops, desktops, monitors, audio equipment, routers and peripherals. ROG participates in and sponsors major international gaming events. ROG gear has been used to set hundreds of overclocking records and it continues to be the preferred choice of gamers and enthusiasts around the world. Learn more about the choice of champions at http://rog.asus.com.