ASUS Introduces New ROG Gaming Laptop Displays at Computex
-- Breaking ground with 4K120, 4K AMOLED, and world's first 17.3ʺ 240Hz laptop panels --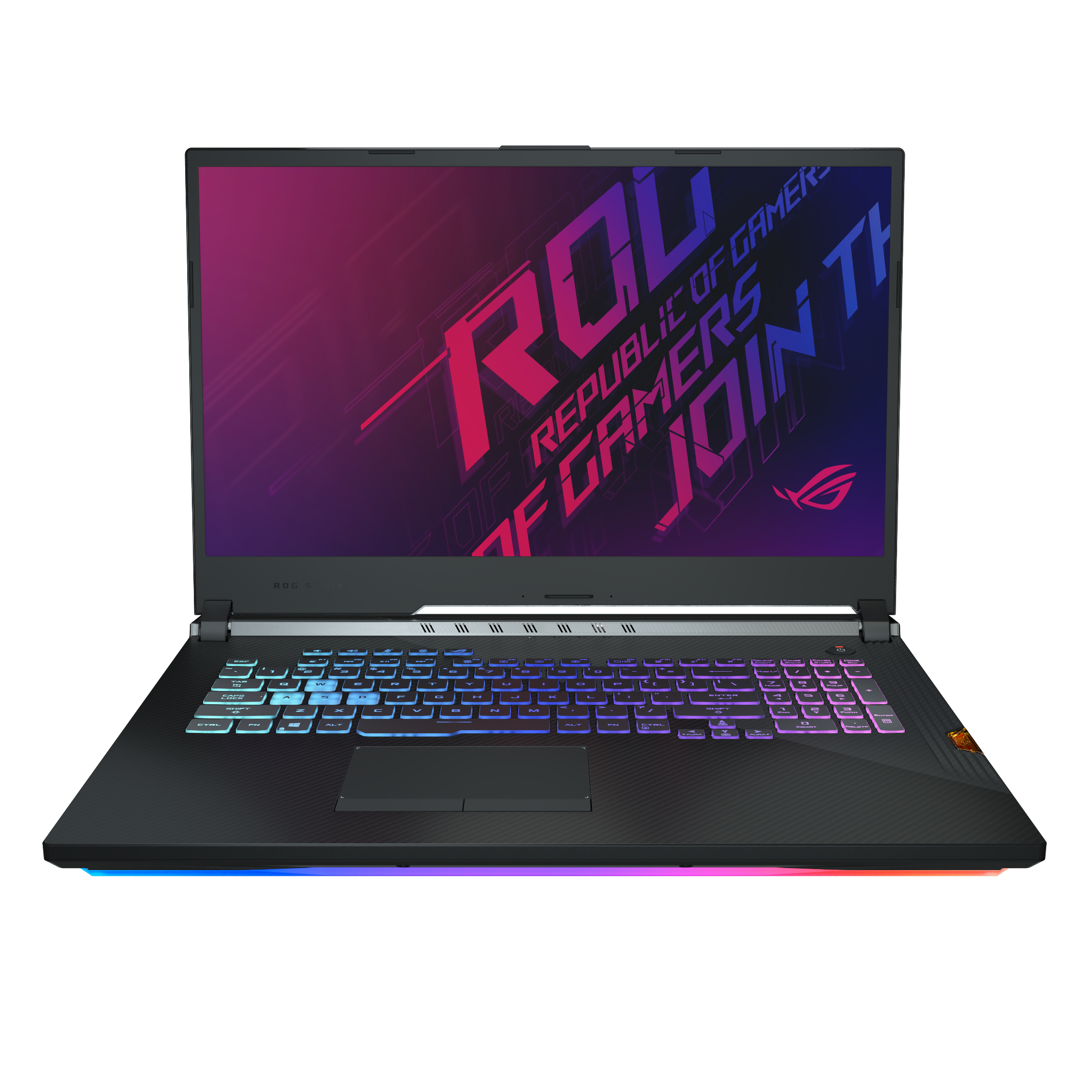 KEY POINTS


First 17ʺ 240Hz displays: Strix SCAR III and Hero III are the world's first 17ʺ gaming laptops with ultrafast 240Hz/3ms displays for competitive esports
High refresh meets high resolution: Panel demo refreshes 4K UHD at 120Hz, double the frequency of typical UHD displays
Full spectrum innovation: AMOLED demo offers 4K UHD with high dynamic range and 100% coverage of the DCI-P3 color space
Versatility on display: Latest ROG gaming laptop lineup with HDR, 4K, G-SYNC, and PANTONE Validated displays nimbly shift between content creation and entertainment
Fremont, California (May 29, 2019) — ASUS Republic of Gamers (ROG) today announced new 240Hz gaming laptops with larger 17-inch displays, along with details on multiple 4K UHD panels set to demo at Computex 2019 in Taipei, Taiwan. The premium panels showcase groundbreaking speed, precision, and depth of detail that define the future of gaming machines. They push the boundaries of modern technology, giving everyone from competitive esports players to professional content creators a visual experience that looks incredibly sharp and feels impeccably smooth.
Only a month after the arrival of the fastest 15.6-inch panel on the planet in the ROG Spring 2019 Collection, the first 17.3-inch 240Hz/3ms display debuted inside the Strix SCAR III and Hero III esports gaming laptops. Technology demos featuring 4K UHD panels are also scheduled for Computex, including a 120Hz/3ms option with 100% Adobe RGB coverage and an AMOLED panel with high dynamic range (HDR). The dueling 4K UHD displays underline the ROG commitment to delivering the best visual experience, giving serious gamers, power users, and content creators the tools they need to accelerate their creativity and productivity.
First 17ʺ 240Hz displays

ROG is dedicated to staying at the forefront of gaming laptop display technology, breaking its own high-refresh records to push the boundaries of speed. In 2016, G752VS debuted a 120Hz display that doubled the speed of competing laptops while maintaining excellent colors and viewing angles. That led to a project with chemical giant Merck to develop a new liquid crystal structure capable of supporting even higher frequencies, resulting in the release of the world's first 144Hz gaming laptop in the ROG G703 desktop replacement. Beyond speeding up the refresh rate, the 144Hz panel also cut the grey-to-grey pixel response time to just 7ms, a reduction of nearly 4X over the alternative at the time. By 2018, the response time dropped to a mere 3ms and spread across a full lineup of ROG laptops.
That spirit of innovation led ROG to demo a cutting-edge 240Hz panel inside Strix SCAR II at CES in early 2019, setting a new standard for hardcore gaming laptops and portable esports rigs. The same 15-inch panel rolled out last month across multiple members of the ROG Spring 2019 Collection, including the new Zephyrus S GX502, Zephyrus M GU502, Strix SCAR III G531, and Strix Hero III G531.
Now, Strix SCAR III G731 and Hero III G731 are the first to bring 240Hz/3ms displays to more expansive 17-inch screens. With up to NVIDIA® GeForce RTX™ 2070 graphics that can push into factory overclocked territory thanks to ROG Boost, they have enough horsepower to generate triple-digit frame rates for sublimely smooth gameplay in fast-paced titles and competitive esports.
High refresh meets high resolution

Longtime panel partner AUO has developed a 4K UHD panel capable of refreshing at up to 120Hz (4K120), which is double the speed of typical UHD displays. ROG is demonstrating this groundbreaking 15.6-inch panel in a modified version of the Zephyrus S GX502 ultraslim gaming laptop.
The 4K120 display underlines the versatility of Zephyrus S for both gaming to content creation. NVIDIA G-SYNC® Technology synchronizes the refresh rate of the display with the frame rate of the GeForce RTX 2070 GPU to eliminate tearing and smooth over performance fluctuations in normal gameplay. The 3ms response time helps to maintain a clear picture with fast-paced play, and the 400 nit backlight improves visibility in brighter environments.
On the creative side, artists can draw from a wide gamut that covers 100% of the Adobe RGB color space, a much broader range than standard sRGB. The panel can also be factory calibrated and PANTONE® Validated to guarantee color accuracy for professionals and content creators.
Full spectrum innovation

Expanding display technology in another direction, ROG is also demoing a 4K UHD AMOLED display deployed in another Zephyrus S test machine. This configuration has a static 60Hz refresh rate but features an ultrafast 1ms response time. The HDR display offers a 80,000:1 contrast ratio anchored by deep, rich blacks. It covers 100% of the DCI-P3 color space commonly used in movie production, making the experimental machine especially appealing for video editing. With eight bits per channel plus two more via dithering, the display can produce over a billion individual hues.
Because the panel is so lightweight, covering it with a protective layer of glass barely adds to the overall heft of the laptop. The combination of AMOLED and glass is only slightly heavier than the matte TFT alternative.
Versatility on display

Special editions of the newly released ROG Zephyrus S GX531 and GX701 offer HDR displays via traditional TFT technology. At 144Hz and 3ms, their Full HD panels blend blistering speed with VESA DisplayHDR 400 certification. Though software support is still somewhat thin due to the lack of a single API for high dynamic range, these leading-edge displays offer over a billion colors driven by powerful backlights with local dimming across up to 16 individual zones.
A richly detailed 4K UHD display is also available on ROG Mothership, which joins the HDR Zephyrus laptops in the ROG booth at Computex 2019. The revolutionary standing form factor is available with a 4K UHD panel that refreshes at up to 60Hz with G-SYNC. Like in the 4K120 tech demo, the panel covers 100% of the Adobe RGB color space, making it particularly appealing for videographers who want to edit 4K UHD footage natively.
For graphics professionals who work within the standard sRGB color space, the ROG Spring 2019 Collection includes multiple models with factory calibration that guarantees color accuracy. Zephyrus S GX502, GX531, GX701, and Zephyrus M GU502 can be configured with PANTONE Validated panels, and all but GX701 are available at speeds up to 240Hz with 3ms response.
See the future of gaming laptop panels

The latest ROG gaming laptops offer serious utility to both competitive gamers and creative professionals. The lineup currently showing at Taipei Nangang Exhibition Center, Hall 1, ROG Booth M0810 showcases advanced display technologies that raise the bar for gaming powerhouses and hybrid workhorses.
###
AVAILABILITY AND PRICING
Many ROG gaming laptops on display at Computex 2019 are available for sale or pre-order today. Check with your local ROG representative for details about availability, configurations, and pricing in your region.
PRODUCT IMAGES
GX502:
https://channel.asus.com/ExternalFile.aspx?path=7e5ac7d8c62d483f91d97681a9c8452c

SCAR III 240":
https://drive.google.com/file/d/13v6kVGo6wOHRGNsj7YutjY63BIgYD4hO/view?usp=sharing
PRESS CONTACTS
Randall Grilli
Director of Media Relations
Randall_Grilli@asus.com

ASUS at Computex 2019: If you're interested in seeing any products or taking a tour of the ASUS and ROG booths at Computex, please reach out to the press contact listed above.
RELATED PRESS RELEASES
To access all ASUS and ROG Computex press releases and collateral, please visit:
https://tinyurl.com/asus-computex-2019

###
About ROG
Republic of Gamers (ROG) is an ASUS sub-brand dedicated to creating the world's best gaming hardware and software. Formed in 2006, ROG offers a complete line of innovative products known for performance and quality, including motherboards, graphics cards, laptops, desktops, monitors, audio equipment, routers and peripherals. ROG participates in and sponsors major international gaming events. ROG gear has been used to set hundreds of overclocking records and it continues to be the preferred choice of gamers and enthusiasts around the world. Learn more about the choice of champions at http://rog.asus.com.